Why Choose Us

Small Size, Location, Location, Location
Our Youth Paddle Programs have no more than 30 kids per session with a minimum of 1 counselor per 5 participants. We're small intentionally . We love what we do and we do what we love. Our Little Harbor beach and park front facility provides the most beautiful, clean, tranquil paddle spot in Marblehead. We make the most it -- paddling in and around Little Harbor, Brown and Gerry Islands enjoying nature's best on-water and on-land activities.
High Quality Program. Kids learn while having FUN!
Paddlers learn through games and activities such as relays, board/boat swapping, capsizes and rescues, jousting, piano keys… we've scores of creative ways to teach! Every day is a planned adventure based on the conditions of the day including Marblehead Light, ever popular scavenger hunt course on and around Browns Island and docking-up at Crocker Park for ice cream treat Coffeys! Games and team building activities increase balance, coordination, and confidence. By the end of the week, your child will learn:
How to fall off, and get back on – safely.
Tricks and Technique – from pivot turns to paddling on one foot, or simply – paddling straight and how to stop
Tandems & Towing – how to have fun with another paddler, and be helpful
Safety, Weather, Tides, and Rules of the 'Road'
Marine Stewards – young paddlers go away more informed and ready to help keep our waters and wildlife healthy
Qualified Instructors
All Little Harbor Boathouse Paddle Counselors are expert paddlers and complete our 16 hr Coastal Kayak and SUP Leadership Training as well as hold First Aid Certifications.
Safety: weather or not
No need to worry about weather spoiling the fun. We are all about safety and are off the water when necessary. Our safety Boston Whaler and a fleet of pedal-kayaks assist and support young paddlers when needed. We're ready with a host of engaging and fun activities at our boathouse facility with bathrooms and sheltered park. On shore games and activities keep us busy and your child safe! All participants wear life vests whenever near or on the water.
Swimming competence:
We ask parents or guardians of children to certify their participant is able to swim 50 yards and tread water for 1 minute; this statement is included in our waiver you'll sign prior to participation.

No Refund Policy
Our no refund policy is designed to encourage early registration and a commitment to Little Harbor Boathouse programs, facilities and staff.
REGISTRATION IS OPEN

Thank you for choosing Little Harbor Boathouse's highly regarded
Summer Youth Paddle Program for your children.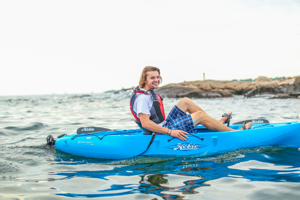 Any Questions?
Little Harbor Boathouse is Greater Boston's kayak and stand up paddle outfitter located on pristine waters protected by Crowninshield and Gerry's Island, 15 miles north of Boston and Cambridge, Massachusetts. We sell and rent a broad selection of Hobie pedal-paddle-sail-fish Kayaks and Standup Paddle Boards. Outdoor recreation and on-water lifestyle specialists, we are dedicated to sharing our enthusiasm for kayaking, standup paddling, kayak sailing and kayak fishing with you! Come find us and return often to our hidden gem location for the some of the best paddle and pedal kayaking, standup paddling, fishing and kayak sailing in New England. We're open 7 days/week in-season and by appointment year-round.