About Us
Bring the whole family for an outing or season of kayaking and standup paddling fun and fitness at Boston's North Shore hidden gem Little Harbor Boathouse! Just 15 miles north of Boston, spend the day at our pristine beach, paddle around Little Harbor Islands and Marblehead Harbor and stroll our historic seaside village shops & cafes. Choose from pedal, paddle and sail Hobie Kayaks (singles & tandems) and Standup Paddle Boards. From Memorial Day weekend to Labor Day weekend, Little Harbor Boathouse offers hourly and group and party rentals for up to 60 paddlers. Summer Adventure Program (ages 8-14) runs weekly, Guided Tours and Kayak Fishing Guides by appointment. Helping families and friends have unforgettable on-water experiences is what we're all about. Thank you for your patronage



END-OF-RENTAL SEASON:
Labor Day Weekend Hours:
SAT: 10 - 6
SUN: closed due to storm and Small Craft Advisory)
MON: 10 - 4 (last rental launch at 3 p.m.)
ENDLESS SUMMER PROMO & SIDEWALK SALES DAY: SAT. SEP 9 FROM 10 - 5

(no rentals)
HOBIE SHOP & SALES: OPEN YEAR ROUND BY APPOINTMENT CALL 781-900-3552 (OWNER LIVES ACROSS STREET)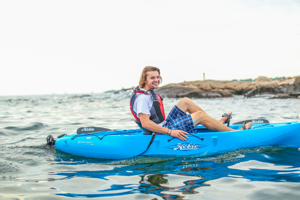 Any Questions?
Little Harbor Boathouse is Greater Boston's kayak and stand up paddle outfitter located on pristine waters protected by Crowninshield and Gerry's Island, 15 miles north of Boston and Cambridge, Massachusetts. We sell and rent a broad selection of Hobie pedal-paddle-sail-fish Kayaks and Standup Paddle Boards. Outdoor recreation and on-water lifestyle specialists, we are dedicated to sharing our enthusiasm for kayaking, standup paddling, kayak sailing and kayak fishing with you! Come find us and return often to our hidden gem location for the some of the best paddle and pedal kayaking, standup paddling, fishing and kayak sailing in New England. We're open 7 days/week in-season and by appointment year-round.