Boston North Shore Kayak & SUP Rentals
There's no better place to enjoy on-water recreation than Boston North Shore's Little Harbor Boathouse in Marblehead!
2018 RENTAL SEASON: 7 DAYS/WEEK from JUNE 23 - SEPTEMBER 3 (LABOR DAY)
MON- SAT: 10 - 6. SUNDAYS: 11 - 5
Standup Paddle Boards (SUP) & Single Kayaks
Tandem Kayaks
SUP First Timers: 
$10 Learn-to-SUP & Safety Basics for Beginners
Hobie Mirage Pedal-Powered Kayak Rentals* Hands-free: great for recreation, on-water workouts & fishing!
Hobie Single Mirage Kayak
Hobie Tandem Mirage Kayak
1 hour: $57
2 hours: $102
Hobie Adventure Island
1 hour: $89
2 hours: $160
Prices are plus tax Cancellation Policy: 
Cancellations with full credit toward a future rental are available with 24 hour advanced notice. Reservations made within 24 hours of rental are final and non-refundable. Reservations begin at the designated start time. Late arrivals will not receive refunds or credits for missed time. Age & Paddle Policies: Paddlers must be 5 years old to ride with parent or guardian. 

Children under 8 must be on the water with an adult and stay within 
Gerry Island & Gas House Beach under supervision of parent/guardian.

 Children ages 8 - 17 must have a buddy paddler, may paddle within Little Harbor boundary waters 
unaccompanied by adult with parent/guardian permission & signed 
waiver. 


All paddlers must wear provided coast guard approved PFD. ALL our rentals boats are U.S. Coast Guard Vessel Safety Checked with Decal.
RESERVE YOUR RENTAL
Worth a little drive: 15 miles North from Boston Logan. 7 miles off 128 - Lowell St., Peabody Exit.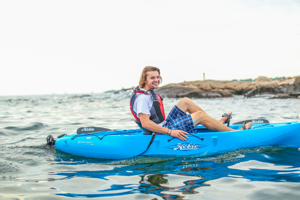 Any Questions?
Little Harbor Boathouse is Greater Boston's kayak and stand up paddle outfitter located on pristine waters protected by Crowninshield and Gerry's Island, 15 miles north of Boston and Cambridge, Massachusetts. We sell and rent a broad selection of Hobie pedal-paddle-sail-fish Kayaks and Standup Paddle Boards. Outdoor recreation and on-water lifestyle specialists, we are dedicated to sharing our enthusiasm for kayaking, standup paddling, kayak sailing and kayak fishing with you! Come find us and return often to our hidden gem location for the some of the best paddle and pedal kayaking, standup paddling, fishing and kayak sailing in New England. We're open 7 days/week in-season and by appointment year-round.