Hobie Kayak Fishing Events
2017 Hobie First Cast Kayak Fishing Events
Sun, May 21st 8:30 - 11:30 a.m.

sold out

Sat., Jun 3rd 8:30 - 11:30 a.m.

sold out

Sat., Jun 17 8:30 - 11:30 a.m.

Sun., Jun 25 10 a.m. - 1 p.m. last chance with our pros! Grab one of the last spots available!
3 hour Hobie Kayak Fishing trip! We provide a Hobie Mirage Drive Kayak, fishing gear & Hobie Pro Staff Fishing Guides! Our expert guides show you how to catch stripers and more from a hands-free Hobie Kayak right off Little Harbor! All skill levels are invited. Limited spots. 24/7 online registration!
Fee: $99* includes: Hobie Mirage Drive Single Kayak rental + pro guide *applies to same week Hobie Kayak purchase. $10 for Rod & Bait. Little Harbor Boathouse Hobie angler customers with own equipment are invited to join in FREE. Limited spots - BOOK ON-LINE NOW or call the shop: 781-990-3552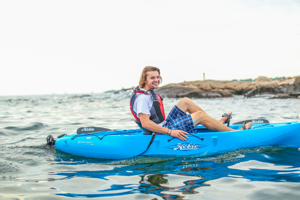 Any Questions?
Little Harbor Boathouse is Greater Boston's kayak and stand up paddle outfitter located on pristine waters protected by Crowninshield and Gerry's Island, 15 miles north of Boston and Cambridge, Massachusetts. We sell and rent a broad selection of Hobie pedal-paddle-sail-fish Kayaks and Standup Paddle Boards. Outdoor recreation and on-water lifestyle specialists, we are dedicated to sharing our enthusiasm for kayaking, standup paddling, kayak sailing and kayak fishing with you! Come find us and return often to our hidden gem location for the some of the best paddle and pedal kayaking, standup paddling, fishing and kayak sailing in New England. We're open 7 days/week in-season and by appointment year-round.