Season Pass
You don't have to own, store or lug your own kayaks, standup paddle boards, pedal kayaks, pfds, paddles to enjoy on-water recreation in Marblehead! Choose the grace and ease of our large fleet and valet service to the best launch spot & paddle waters in Marblehead. All you need to do is show up ready to launch. Enjoy a summer full of on-water good times & good vibes at Little Harbor Boathouse!
2018 Paddle Kayak and SUP Pass

Includes Single & Tandem Paddle Kayaks and Standup Paddle Boards



Season: Single: $459 • Couple: $689 • Family: 1st Child: $199* Additional: $100/child
30 Day: Single: $279 • Couple: $425 • Family: 1st Child: $119* Additional: : $59/child
*Child Passes must be purchased with Single or Couple Pass
_______________________________________________________________________

2018 Hobie Pedal Kayak & Paddle Kayaks and SUP Pass:


Includes Hobie Pedal Kayaks, Single & Tandem Paddle Kayaks and Standup Paddle Boards



Season: Single: $949
30 Day: Single: $599

Prices are plus MA Sales Tax
How it Works:
Launch and enjoy the most spectacular beach and paddle waters in Marblehead if not the north shore! Little Harbor Boathouse Season Passes work like a gym membership: No advanced reservations. Walk-in access to our large fleet of available Hobie Kayaks and SUPs delivered to the beach ready for your pleasure for up to 2 hours per Single, Couple or Family Group Pass once every-rental-day during our 7 day/week rental operation (except July 1-4: 1 hr/day) from June 23 to September 3, 2018. No refunds. Non-transferable.
Age & Other Policies
Must be 5 years old to ride with parent or guardian
Children under 8 must be on the water with an adult and stay within Gerry Island & Gas House Beach under supervision of parent/guardian.
Children ages 12 - 17 may paddle within Little Harbor boundary waters unaccompanied by adult with parent/guardian permission & signed waiver
Season passes are not transferrable: only the person(s) or members of a family pass whose name(s) appear on the card may use the pass.
Season passes are non-refundable.
All participants must wear properly-fitting U.S. Coast Guard approved lifejacket (personal flotation device, or PFD) at all times during on-water activities.
Buy Your Season Pass Today!
Lock in a summer of fun or gift it to someone.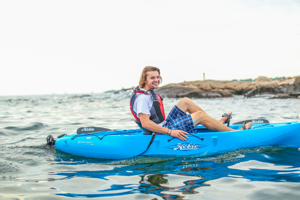 Any Questions?
Little Harbor Boathouse is Greater Boston's kayak and stand up paddle outfitter located on pristine waters protected by Crowninshield and Gerry's Island, 15 miles north of Boston and Cambridge, Massachusetts. We sell and rent a broad selection of Hobie pedal-paddle-sail-fish Kayaks and Standup Paddle Boards. Outdoor recreation and on-water lifestyle specialists, we are dedicated to sharing our enthusiasm for kayaking, standup paddling, kayak sailing and kayak fishing with you! Come find us and return often to our hidden gem location for the some of the best paddle and pedal kayaking, standup paddling, fishing and kayak sailing in New England. We're open 7 days/week in-season and by appointment year-round.