Pedal Kayak Rentals & Tours
Hobie Mirage hands-free, pedal-powered Kayaking takes on-water recreation, fun, fitness and fishing to the next level! The Hobie MirageDrive is an incredibly robust, revolutionary pedal-propulsion system that moves the kayak forward like riding a bike! Stable, Fast, Fun! The MirageDrive and the seat are adjustable to accommodate just about everyone! Choose from our fleet of single and tandem Hobie Mirage Drive Kayaks. Powered by your legs, you'll enjoy a pleasurable aerobic and resistance work-out, burn calories and build endurance all while taking in Boston North Shore's beautiful Little Harbor and Islands, Marblehead Lighthouse and Harbor! No prior experience necessary. Just come ready to launch and our friendly staff will deliver your Hobie Mirage Kayak to the beach and teach you how. Pedal-powered/hands-free: great for recreation, on-water workouts & fishing!
Hobie Single Pedal Kayak
Hobie Tandem Pedal Kayak
1 hour: $57
2 hours: $102
Hobie Adventure Island
1 hour: $89
2 hours: $160
*1st hour rental fee applies toward same week purchase. Rental fees are plus MA Sale Tax.
Private Pedal-Kayak Tours
Enjoy Hobie's incredibly robust, revolutionary propulsion pedal-driven Hobie Mirage Drive Kayaks for an ultimate on-water pedal-powered, calorie-burning kayak tour. No experience necessary. Hobie's MirageDrive pedal length and seats are adjustable to accommodates a wide size range of participants.
ONE HOUR TOURS:

1 person: $83; 2 people: $75/person; 3+ people: $70/person. Include Hobie Mirage pedal-Kayak and Guide

TWO HOUR TOURS:

1 person: $158; 2 people: $144/person; 3+ people: $132/person. Includes Hobie Mirage pedal-Kayak and Guide Book your private pedal-kayak tour around Marblehead's beautiful harbors and islands!
Book your Hobie Pedal Kayak Rentals and Tours Now!
On water fun and fitness! No experience necessary.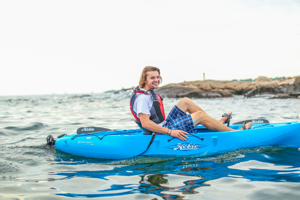 Any Questions?
Little Harbor Boathouse is Greater Boston's kayak and stand up paddle outfitter located on pristine waters protected by Crowninshield and Gerry's Island, 15 miles north of Boston and Cambridge, Massachusetts. We sell and rent a broad selection of Hobie pedal-paddle-sail-fish Kayaks and Standup Paddle Boards. Outdoor recreation and on-water lifestyle specialists, we are dedicated to sharing our enthusiasm for kayaking, standup paddling, kayak sailing and kayak fishing with you! Come find us and return often to our hidden gem location for the some of the best paddle and pedal kayaking, standup paddling, fishing and kayak sailing in New England. We're open 7 days/week in-season and by appointment year-round.