Kids Summer Programs
2018 SUMMER PADDLE ADVENTURE PROGRAM FOR KIDS ages 8 - 14
Standup Paddling - Kayaking - Water Safety, Confidence, Skills, FUN
Stellar reputation. Our Instructor Guides successfully complete a 16 hr ACA Coastal Kayak & SUP Leadership Training.
For Girls and Boys ages 8 -14. My favorite camp I went to all summer and I went to five camps! —Happy Camper
LHB's super popular summer program takes kids out on the best paddle waters off Little Harbor and features games, relays, board/boat swapping, capsize and rescue, piano keys & more to inspire and build skills, balance, confidence, friendships and the lifetime pleasure of paddle sports recreation! Every day is a new paddle adventure to an island, beach or cove destination for treasure hunts, team building activities, swimming, coastal stewardship and eco-awareness. Our camps use both SUPs and Kayaks for variety and flexibility of varied paddler skill levels and water conditions. All experienced counselors complete a 16 hr Coastal Kayak and SUP Leadership Training and hold First Aid Certifications. When weather or safety calls us off-water we are ready with safety boats, shelter and a creative indoor and on-land program. All skill levels are invited: there's an awesome group & adventure every day for everyone!
MONDAY THROUGH THURSDAY (RAIN OR SHINE) from 9:30 a.m. – 12:30 p.m.
FEE: $295 per sesson

CHOOSE YOUR DATES & REGISTER TODAY:
June 25 - 28 (Tues-Fri)
July 2 - 6 (no program on July 4)
July 9 - 12
Jul 22 - 26
Aug 13 - 16
Aug 21 - 23
ONE-DAY DROP-IN:
MONDAY THROUGH THURSDAY (RAIN OR SHINE): $95
Drop-in registration is by phone or in person only: 781-990-3552
2018 ON-LINE REGISTRATION Coming soon!
• Preferred: Mail your check to: Little Harbor Boathouse, 40 Doaks Ln., Marblehead, MA and we'll send you a FREE 1 hr Kayak/SUP Rental Gift Certificate • Credit Card: Please submit on-line registration form and we'll call to process your payment
GOOD TO KNOW
Swimming requirement:
We ask parents or guardians of under age participants to certify youth paddle participants are able to swim 50 yards and tread water for 1 minute; this statement is included in our waiver you'll sign prior to participation. PFDs are provided and worn during all on-water activities.
Weather or not
We run paddle programs rain or shine so you don't need to worry about weather spoiling the fun. We are all about safety and are off the water when necessary. For all Kids Paddle Programs: On shore games and activities keep us busy and your child safe!
Qualified Instructors
Little Harbor Boathouse Paddle Instructors and Guides are expert paddlers and qualified with CPR and First Aid and/or lifeguard certifications. We make sure we have at least 1 certified instructor assigned to every 10 paddlers and maintain 1 LHB crew member to 5 youth paddler ratio. Special needs children must be approved by Little Harbor Boathouse and may require an additional Counselor billed at $75 per 3 hour session arranged in advance.
Refund and Discount Policy
Fees will not be prorated or refunded for partial attendance, cancellations or changes after May 1, 2018. We do not offer a discount for families with multiple children in the program, and cannot accommodate requests for refunds. Fees are not designed to discourage registration, but rather to encourage early registration and a commitment to Little Harbor Boathouse programs, facilities and staff.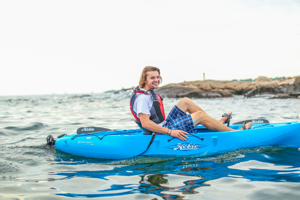 Any Questions?
Little Harbor Boathouse is Greater Boston's kayak and stand up paddle outfitter located on pristine waters protected by Crowninshield and Gerry's Island, 15 miles north of Boston and Cambridge, Massachusetts. We sell and rent a broad selection of Hobie pedal-paddle-sail-fish Kayaks and Standup Paddle Boards. Outdoor recreation and on-water lifestyle specialists, we are dedicated to sharing our enthusiasm for kayaking, standup paddling, kayak sailing and kayak fishing with you! Come find us and return often to our hidden gem location for the some of the best paddle and pedal kayaking, standup paddling, fishing and kayak sailing in New England. We're open 7 days/week in-season and by appointment year-round.