Pedal Kayak Class & Tours
Hobie Mirage Kayak Spin Class & Tours 2017
The ultimate on-water aerobic and resistance work-out!
Take your spin class on-the-water! Burn calories, build endurance and strength on a hands-free Hobie Kayak using Hobie's pedal-powered innovation—your leg power will propel the Hobie Mirage Drive Kayak swiftly through the water. Your coach will guide you on 3 - 5 mile coastal water routes around Marblehead Harbor and the Neck. No prior experience necessary. This is a perfect outlet for the busy, health-conscious, active person — invigorating body, mind and Spirit. The class will be offered with varying intensity levels depending on participants. Choose from tandem and single Hobie MirageDrive kayaks so you can join with a friend or come on your own. Guaranteed to be the best on-water workout on Boston's North Shore! Very Cool … Very Unique … Unduplicated Anywhere!
Four Week Class on Thursday
Begins Th., May 25; Ends Thurs., Jun 15.
Time: 9 - 10:30 a.m.
Fee: 4 weeks on Thursdays for $160 includes instruction and all equipment
Each 90 minute class (60 min. on-water workout) includes pre-launch, pedal-kayak-tour and return to boathouse. The class is limited to 8 participants. Come to class with water-shoes for beach launch and exercise clothes. Be sure to arrive on-time as there are no refunds for late arrivals missing the launch. Class runs rain or shine (make-up for any class missed due to inclement water conditions.
Private Pedal-Kayak Tours. Prices:
ONE HOUR TOURS: 1 person: $83; 2 people: $75/person; 3+ people: $70/person. Include Hobie Mirage pedal-Kayak and Guide
TWO HOUR TOURS: 1 person: $158; 2 people: $144/person; 3+ people: $132/person. Include Hobie Mirage pedal-Kayak and Guide
Book your private pedal-kayak tour around Marblehead's beautiful harbors and islands! Enjoy Hobie's incredibly robust, revolutionary propulsion pedal-driven Hobie Mirage Drive Kayaks for an ultimate on-water pedal-powered, calorie-burning kayak tour. No experience necessary. Hobie's MirageDrive pedal length and seats are adjustable to accommodates a wide size range of participants.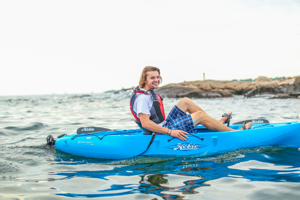 Any Questions?
Little Harbor Boathouse is Greater Boston's kayak and stand up paddle outfitter located on pristine waters protected by Crowninshield and Gerry's Island, 15 miles north of Boston and Cambridge, Massachusetts. We sell and rent a broad selection of Hobie pedal-paddle-sail-fish Kayaks and Standup Paddle Boards. Outdoor recreation and on-water lifestyle specialists, we are dedicated to sharing our enthusiasm for kayaking, standup paddling, kayak sailing and kayak fishing with you! Come find us and return often to our hidden gem location for the some of the best paddle and pedal kayaking, standup paddling, fishing and kayak sailing in New England. We're open 7 days/week in-season and by appointment year-round.