Kayak Fishing Charters
Guided Kayak Fishing Charters
• Fully Equipped, Hands-Free Hobie Mirage Drive Kayaks
• Primarily Targeting Striped Bass & Bluefish Spin & Fly Fishing -
• All Gear Provided • All Kayak Fishing Events based at Little Harbor Boathouse in Marblehead, MA
• Off-Site Trips Available from Deer Island, Winthrop to Joppa Flats, Plum Island for additional travel fee.
Charter Fees: paid directly to Why Knot Fishing
One Angler: $35/hour
Two Anglers: $60/hour T
hree Anglers: $75/hour
Hobie Fishing Kayak Rentals must be Booked and paid-for in advance: reserve on-line or call Little Harbor Boathouse @ 781-990-3552

Why Fish With Us? Why Knot?!
You've never kayak fished before, and you want to learn what it's all about? Learn new fishing strategies and tactics; topwater, soft plastics & fly fishing. You want to catch a big fish and go for a "Nantucket Sleigh Ride!" Why Knot Fishing guides are all on Hobie's Fishing Team sponsored by Little Harbor Boathouse!
Kid's Trips & Programs Available! As part of our Take A Kid Fishing philosophy at Why Knot Fishing, we believe in the importance of getting kids out of the house, and on to the water! Contact us for special pricing and availability for all kid's events!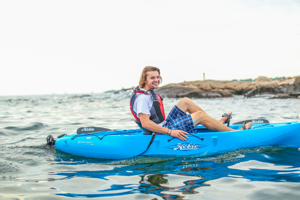 Any Questions?
Little Harbor Boathouse is Greater Boston's kayak and stand up paddle outfitter located on pristine waters protected by Crowninshield and Gerry's Island, 15 miles north of Boston and Cambridge, Massachusetts. We sell and rent a broad selection of Hobie pedal-paddle-sail-fish Kayaks and Standup Paddle Boards. Outdoor recreation and on-water lifestyle specialists, we are dedicated to sharing our enthusiasm for kayaking, standup paddling, kayak sailing and kayak fishing with you! Come find us and return often to our hidden gem location for the some of the best paddle and pedal kayaking, standup paddling, fishing and kayak sailing in New England. We're open 7 days/week in-season and by appointment year-round.