Kayak Fishing Hub on Boston North Shore
Hub for Hobie Kayak Fishing on Boston's North Shore
Sales. Rentals. Expert Guides. Meetups & Events
Kayak fishing is quickly becoming one of the most popular angling forms out there for professional and amateur fisherman alike. Whether novice, seasoned or teen kayak angler explore the productive fishing areas in and around Marblehead - named "best fishing town in New England" from Little Harbor Boathouse! Why Knot Fishing expert guides keep the focus on catching striped bass, blue fish while fishing off our rental fleet of hands-free Hobie Mirage Drive Kayaks! Join our passionate & positive Anglers and experience first-hand some of the many benefits of sport fishing from a Hobie kayak including: serenity and adventure in non-motorized fishing, being close to the water and nature in a stable hands-free kayak ideal for fishing, achieving major cost savings over motor-boat fishing, the significant health and fitness benefits of pedal-kayaking, being a member of the kayak fishing community. Our Guide services are lead by LHB's 2018 Hobie Fishing Team Member Joe Gugino, Why Knot Fishing CEO.
2018 Kayak Fishing Events
Save these dates in 2018! If you're new to Hobie hands-free Kayak Fishing or a seasoned kayak angler—our events and meetups are great opportunities to hang-out and fish with Hobie Why Knot Fishing Team Guides.
Hobie First Cast Kayak Fishing Meetups
2018 Hobie First Cast Kayak Fishing Events
Sat, May 26 from 8:30 - 11:30 a.m.
Sat., Jun 2nd 12:30 - 3:30 p.m.
Sun., Jun 24 8:30 - 11:30 a.m.
Details: Experience your first cast, first fish, first Hobie Kayak off productive & beautiful Marblehead waters. New and experienced anglers 18 years of age and older are invited. Use of Hobie Kayak and Fishing Gear included. Learn the benefits of hands free kayak fishing with Why Knot Fishing - Hobie Fishing Team Guides. Already already a Little Harbor Boathouse Hobie kayak angler customer? You're invited to join our First Cast - Kayak Fishing Meetups free! Pre-registration is required. Where: Little Harbor Boathouse - Authorized Hobie Kayak Dealer, 40 Doaks Ln, Marblehead, MA Fee: $129 Fee applies to same week Hobie Kayak purchase at Little Harbor Boathouse. Limited spots - book today on-line at Little Harbor Boathouse. Or call to book at: 781-990-3552
Hobie Fishing Kayak Rentals @ Little Harbor Boathouse
Hobie Mirage hands-free, pedal-powered kayaking takes fishing from a kayak to the next level! The Hobie MirageDrive is an incredibly robust, revolutionary pedal-propulsion system that moves the kayak forward like riding a bike! Stable, Fast, Fun and adjustable to accommodate just about everyone! Rentals are available for First Cast Kayak Fishing Meetups, Guided Excursions and by the Hour. Book yours today: Hobie Fishing Kayak Rentals. Or call to book at: 781-990-3552 Visit our Guided Kayak Fishing Charter page!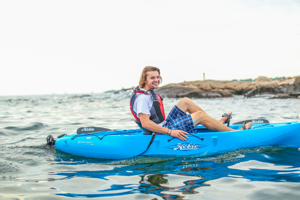 Any Questions?
Little Harbor Boathouse is Greater Boston's kayak and stand up paddle outfitter located on pristine waters protected by Crowninshield and Gerry's Island, 15 miles north of Boston and Cambridge, Massachusetts. We sell and rent a broad selection of Hobie pedal-paddle-sail-fish Kayaks and Standup Paddle Boards. Outdoor recreation and on-water lifestyle specialists, we are dedicated to sharing our enthusiasm for kayaking, standup paddling, kayak sailing and kayak fishing with you! Come find us and return often to our hidden gem location for the some of the best paddle and pedal kayaking, standup paddling, fishing and kayak sailing in New England. We're open 7 days/week in-season and by appointment year-round.