Employment Opportunities
We're hiring!
ACCEPTING APPLICATIONS. See Job Briefs below & apply today!
Office/Administrative Staff - Part-time beginning August 1, 2017 (Full-time for 2018)
Can you see yourself being an essential member of our awesome outdoor recreation team serving pedal-paddle-sail-fish enthusiasts? Do you thrive on being super organized and attending to the details that make for smooth operations and superb customer service? Do you like working in a sometimes fast-paced environment? Are you a self-starter and would enjoy efficiently handling a range of rental bookings, program registration, customer service, administrative and sales functions? If you are experienced and capable of managing office administration and organization; personable, efficient and calm under pressure (when there's a crowd of customers looking to get on the water), proficient in working on a Mac computer and know your way around excel, word, email, social media etc. we want to hear from you! Hours: 15-20 hours/week. How to apply: Email your resume and cover letter to: maryellen@littleharborboathouse.com. Include: a) available start and end dates b) any dates you are not available c) at least 2 references. No phone calls please.
Paddle Camp Instructors: (Accepting applications for 2018)
Experienced Kayakers, Standup Paddle Boarders, Kayak Anglers needed for our awesome Paddle Camps
Requirements
SEEKING skilled paddlers for summer kayaking and standup paddle camp counselors (kids ages 8-14). Our athletic staffers are responsible, outgoing, team players who contribute wholeheartedly to "best camp ever" results for our campers! We hire college students and rising high school juniors or seniors. First Aid/CPR Certification required. Lifeguard Certification a plus. To apply, complete our on-line application.
Boathouse Crew (accepting applications for August through Labor Day only)
Part-time positions available for hard-working, athletic staffers supporting our rental program and events. Requirements: Athletic and fit, hard working and capable of carrying, launching & maintaining boats and boards and performing all other boathouse work and tasks. We hire college age and rising juniors or seniors in high school. You must be able to repeatedly lift at least 50 lbs. You pro-actively contribute to support a smooth operation in any way needed. First Aid/CPR Certification required. A plus: Lifeguard Certification; Boaters License. To apply, complete our on-line application.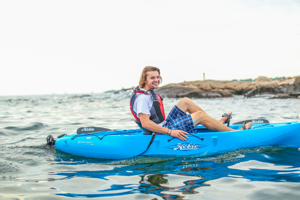 Any Questions?
Little Harbor Boathouse is Greater Boston's kayak and stand up paddle outfitter located on pristine waters protected by Crowninshield and Gerry's Island, 15 miles north of Boston and Cambridge, Massachusetts. We sell and rent a broad selection of Hobie pedal-paddle-sail-fish Kayaks and Standup Paddle Boards. Outdoor recreation and on-water lifestyle specialists, we are dedicated to sharing our enthusiasm for kayaking, standup paddling, kayak sailing and kayak fishing with you! Come find us and return often to our hidden gem location for the some of the best paddle and pedal kayaking, standup paddling, fishing and kayak sailing in New England. We're open 7 days/week in-season and by appointment year-round.